Profile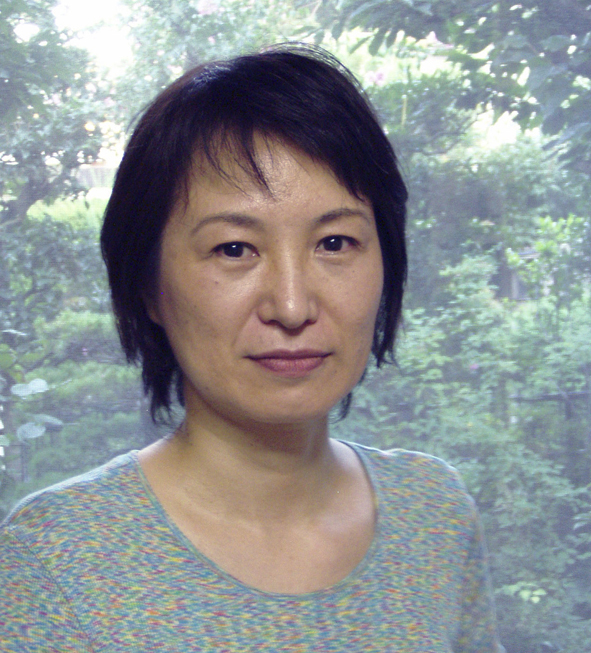 MARUYAMA Yoshiko
Maruyama Yoshiko is a Japanese contemporary artist, working in the mediums of painting and installation.
She sees human beings as having two aspects: "humans as biological beings" and "people as social existences." Her interest lies in the thought process in which a person decides his/her attitude as he/she struggles between "humans' natural behaviors, including instinct and desire" and "human rationality that tries to coexist with others." She uncovers such struggles in past social and historical events, while also exploring the question, "What makes us human?"
In parallel with her own artistic activities, Maruyama has also organized many art projects. She is currently curating the ongoing project Spirit of North, which began in the aftermath of the Great East Japan Earthquake of 2011. Through this project, she hopes to promote the recovery of the entire Tohoku region, including her hometown of Fukushima. Her objective is to produce a global-scale project, so as to discover new "northern" theories through the interactions between national and international artists, and specialists working in multidisciplinary fields.
Selected exhibitions: 2019-20, Spirit of North vol.10, Rovaniemi Art Museum, Finland; 2017, Spirit of North vol.7, Tokyo Metropolitan Art Museum; 2013, Gap Dynamics, Itabashi Art Museum; 2009, Rain Meets Sun, M.K. Ciurlionis National Museum of Art, Lithuania.
●e-mail
maryoshi@me.com
●website
MARUYAMA Yoshiko maruyamayoshiko.com
Spirit of North spirit-of-north.net
●Facebook
MARUYAMA Yoshiko  www.facebook.com/yoshikom3
Spirit of North  www.facebook.com/SeishinNoKitae
| | |
| --- | --- |
| 1957 | Born in Nihonmatsu city, Fukushima prefecture, Lives in Tokyo, Japan |
| 1981 | Graduated from Sokei Academy of Fine Art & Design, Tokyo, Japan |
| 1982 | Begins to work as a visual artist |
| 2011~ | Begins the international art project [Spirit of North] as the Representative of the Executive Committee |
Selected Solo Exhibitions
2022

[Humanity and All Others] iGallery, Tokyo

2016

[Eclosion -The World Might Change] VIRSMAS, The Marija and Jurgis Šlapelis House-Museum, Vilnius, Lithuania

2012

[The Pupa Stage: Its Superimposition with the Human Wish to Undergo Transitions] Toki Art Space, Tokyo

2007

[Terrestrial Tapestry 0710] Kawaguchi City Gallery Atlia, Kawaguchi, Saitama
[Terrestrial Tapestry 0705] Futaba Gallery, Tokyo

2006

[How Can We Understand Others? 0605] Youkobo Art Space, Tokyo
[Unstained Glass: Shifting Iconography 0601] Futaba Gallery, Tokyo

2001

[Between the Lines 0107] Galerie Omotesando, Tokyo

2000

[Between the Lines 0011] Toki Art Space, Tokyo

1999

[Between the Lines 9906] Toki Art Space, Tokyo

1997

[Human Time Arc 9710] Akiyama Gallery, Tokyo
[Human Time Arc 9709] Galerija Skliautai, Vilnius, Lithuania
[Human Time Arc 9707] Fine Art Museum, St.George, Romania
[Out of Chaos 9702] Gallery Art Salon2, Chiba

1996

[Out of Chaos 9604] Akiyama Gallery, Tokyo

1994

[Out of Chaos 9404] Gallery Q, Tokyo

1993

[Out of Chaos 9304] Gallery Lunami, Tokyo

1992

[Out of Chaos 9205] Nabis Gallery, Tokyo

1988

[Color and Shapes of Time] Gallery 21+Yo, Tokyo

1987

[Self-Selection] Iwase Gallery, Fukushima

1986

[River] Gallery 21+Yo, Tokyo

1982

[Nature] Shinwa Gallery, Tokyo
Selected International and Group Exhibitions
2021

[Spirit of North vol.14] An Lanntair, Stornoway, Scotland, UK
[Spirit of North vol.13] NishiAizu International Art Village, Nishiaizu, Fukushima
[Spirit of North vol.12] Nijuken-Gura, Ehon-no-kura, Minami-machi 2850, Kitakata, Fukushima
[Spirit of North vol.11] Perth Creative Exchange, Perth, Scotland, UK

2020-19

[Spirit of "North" vol.10] Rovaniemi Art Museum, Rovaniemi, Finland

2019

[Spring Breeze from Nagasaki] Nagasaki Brick Hall, Nagasaki, Nagasaki

2018

[ZhuJiajiao・2018 Exhibition] ZhuJiajiao Humanities Art Museum, Shanghai, China
[Spirit of "North" vol.9] Toki Art Space, Tokyo
[Spirit of "North" vol.8] Gallery Off Grid, Fukushima, Fukushima

2017

[Spirit of "North" vol.7] Group Show of Contemporary Artists 2017, Tokyo Metropolitan Art Museum, Tokyo
[Spirit of "North" vol.6] Nishiaizu International Art Village, Nishiaizu, Fukushima

2016-15

[The International Art Biennale Fresh Winds] Gardur, Iceland

2015

[Spirit of "North" vol.5] Miyashita Kaseika Center and Otazuki-chiku Minami-machi Area, Mishima and Kitakata, Fukushima
[Spirit of "North" vol.4] Steps Gallery, Tokyo

2014

[Spirit of "North" vol.3] Kaiyoukan, Kitakata, Fukushima
[Spirit of "North" vol.2] Sanju Hachi Kengura, Kitakata, Fukushima

2014-13

[Gap Dynamics: Contemporary Art Festival in Itabashi Art Museum 2013] Itabashi Art Museum, Tokyo

2013

[Art in Nature Interdisciplinary Site-Specific Land Art Biennale 2013] Kjerringoy, Bodo, Norway
[Spirit of "North" vol.1] Sanju Hachi Kengura, Kitakata, Fukushima

2012

[A Sense of Closeness - residencies in Finland and Japan] Youkobo Art Space, Tokyo

2011

[Silence] The 10th Anniversary of Youkobo Art Space, Youkobo Art Space, Tokyo
[Trolls in the Park 2011] Zempukuji Metropolitan Park, Tokyo
[Art in Nature Interdisciplinary Site-Specific Land Art Biennale 2011] Kjerringoy, Bodo, Norway

2010

[Contemporary Art Biennale of Fukushima] Fukushima Culture Hall, Fukushima, Fukushima
[Aizu Urushi Art Festival 2010] 50spaces in Aizuwakamatsu, Kitakata, Mishima and Showa, Fukushima
[ART Ii Biennale of Northern Environmental and Sculpture Art 2010] KulttuuriKauppila Art Centre and the Culture Tradition Path, Ii, Finland

2009

[Art in Parks Project] Zempukuji Metropolitan Park, Tokyo
[First Vision: Okamoto Taro's Museum - Artists Inspired by Museums] Fukushima Museum, Aizuwakamatsu, Fukushima
[Rain Meets Sun] M.K.Ciurlionis National Museum of Art, Kaunas, Lithuania

2008

[Nishikawaguchi Project] Various Stores in Nishikawaguchi Area, Kawaguchi, Saitama
[Giving Form to the Space between Layers] Youkobo Art Space, Tokyo
[Trolls in the Park 2008] Zempukuji Metropolitan Park, Tokyo
[Hope: society and an area, and an art] Nagoya City Gallery Yada, Nagoya, Aichi

2008-86

[Art in Itabashi] Itabashi Art Museum, Tokyo

2007

[Abiko International Open-Air Art Exhibition] Abiko, Chiba

2006

[Between Eco & Ego 2006] masuii R.D.R and 5 space, Kawaguchi, Saitama

2005

[Look 2005] Japan & EU project, The International Exchange Meeting, Perth, Scotland, UK

2004

[Between Eco & Ego 2004 in Greece] Naxos Town Hall, Naxos, Greece
[Between Eco & Ego 2004] Kawaguchi Art Factory & 10space, Kawaguchi, Saitama

2003

[The Pyramids of Naxos] Naxos Town Hall, Naxos, Greece
[Echo Project] Toki Art Space, Galerie Omotesando, Musee F, Tokyo

2002

[Thought Library] SK Gallery and 5 spaces, Tokyo
[Prayers for Love and Peace] Miyazaki Art Museum, Miyazaki

2001

[Abduction] Para Globe, Tokyo
[On the Edge] Urbo Kalnas, Vilnius Kaunas and Nida, Lithuania
[Women Breaking Bounderies 21] Hillside Forum, Tokyo

2000

[Women's Art Network act.2] Yokohama Women's Forum, Yokohama, Kanagawa

1999

[Asiatopia] Saranrom National Park, Bangkok, Thailand
[New Faces of Art in Asia] BWA Lublin, Lublin, Poland

1998

[Attack / Damage] Itabashi Art Museum, Tokyo
[Castle of Imagination] The West Kashubian Museum, Bytow, Poland

1997

[Ann Art] St. Ann Lake, Transylvania, Romania

1996

[Contemporary Art of Central Europe & Japan] Beam Gallery, Tokyo

1995

[Art on the Net] Machida City Museum of Graphic Arts, Tokyo